Back to the Blog
Construction 4.0: managing the digital construction site of 2021
What digital technologies are we bringing to construction sites in 2021? Don't think about 3D printers, exoskeletons, augmented reality or other futuristic objects - we travel much lighter. First, we have the cloud - the invisible but essential tool that is transforming the way construction companies work. Then, just as important, we have mobile devices, ideally equipped with apps capable of collecting, archiving and reprocessing data in reports. Various technologies are also helping to improve cost control, including collaborative platforms that use structured data.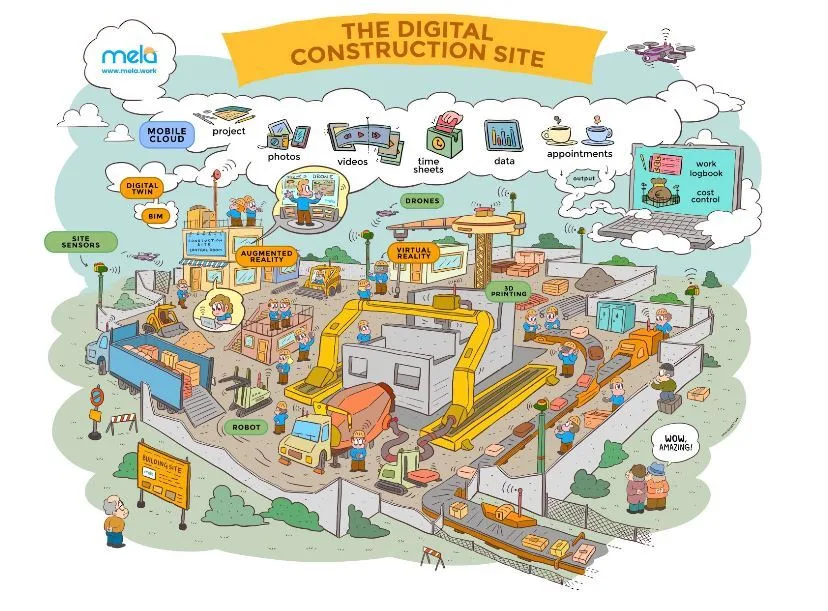 Construction 4.0
---
Construction 4.0. Every great innovation first needs dreamers capable of letting the wings of the imagination fly high — and then a more realistic phase, where these big ideas are brought back down to earth.
Currently, the digitization of construction is between the two phases, with a space full of futuristic inventions and a real possibility to make a leap in efficiency and productivity.
Digital construction site 4.0: what we can already do in 2021

3. Third step: digital cost control
Why didn't we include BIM and the most advanced technologies?
5. Robot, connected equipment, automatic constructions, printed buildings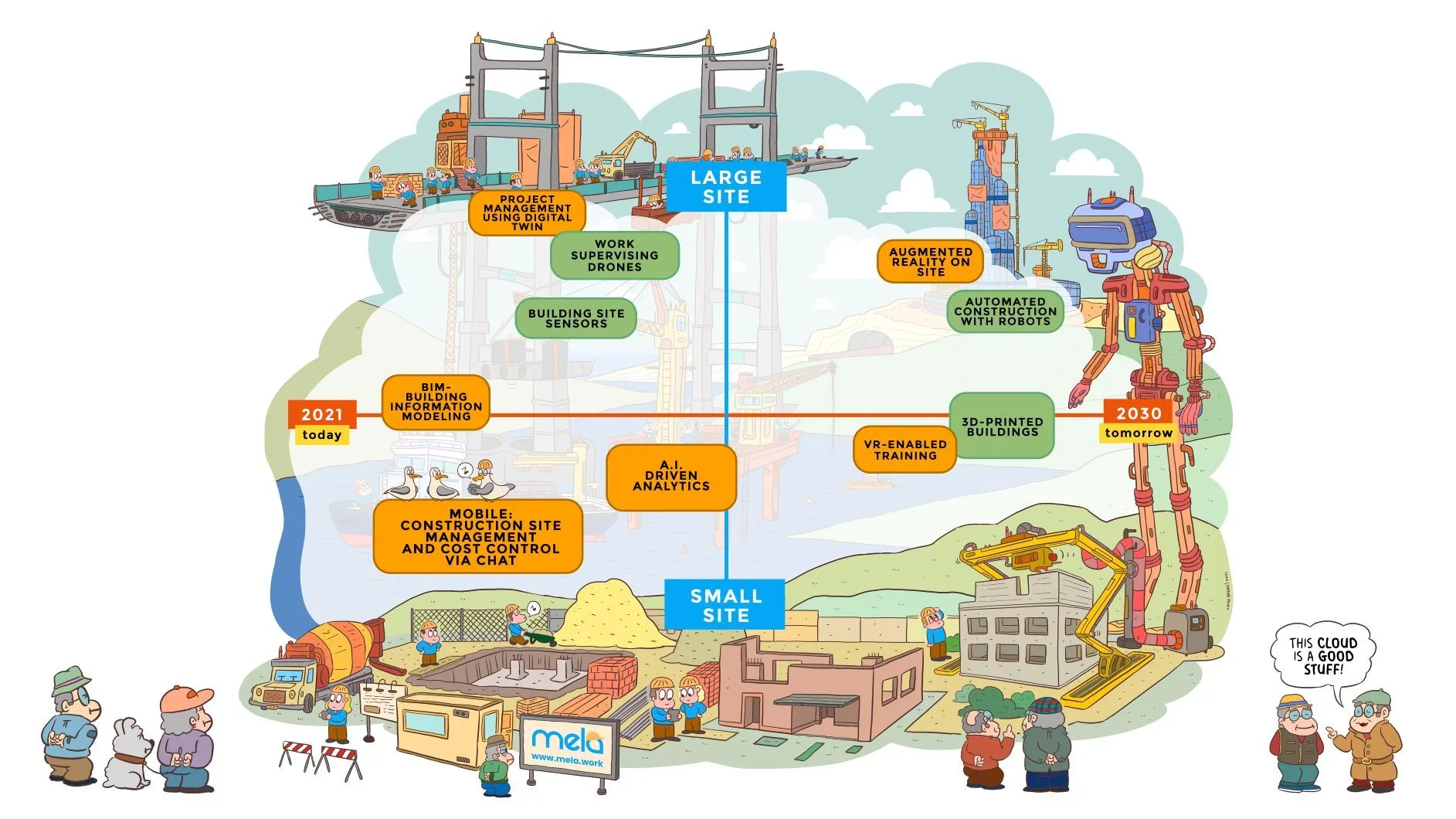 Cartoons for Mela by Luigi Segre
In the graphic above we have included the technologies that are available and already tested in the field, at least in the demonstration phase. We have plotted them on two axes:
The horizontal time axis, which shows when we believe the technologies will be ready to be applied to everyday life on the construction site. The starting point is 2021 and we are looking at a 10-year horizon.
The vertical size axis, indicating the average size of the construction sites where we believe they will be applied with greater consistency and added value over time.
So, what technologies are ready to help the construction industry in 2021, particularly small and medium-sized construction companies?
It is difficult to overstate the importance of simplicity in digital innovation, which also translates into ease of use and convenience. The digital innovations that we will bring to the site in 2021 are fast, simple and have an immediate return on investment.
We don't want expensive projects and lengthy rollouts. We need to be able to invest today and have results in a week. If the results do not satisfy us, we must be able to change course quickly without losing money. It is therefore important that the technologies are services that we can activate and deactivate.
Construction 4.0: what we can do already in 2021
First step: the cloud
Adopting a cloud solution may be a foregone conclusion, but if you haven't done so yet, now is the right time! In 2021 it is unacceptable for data in a company to be contained only on a person's computer or mobile phone.
Those data represent a business risk because you have to contact the owner of the computer or mobile phone whenever you want to recover them. Furthermore, they represent a business risk.
The cloud, which can also be inexpensive, makes it possible to access information remotely by making the appropriate information available to the appropriate parties, no matter where they are. This is the first essential step to digitize the construction site.
2. Second step: the mobile
This is 2021: that means no more paper in the pipeline. Stop bringing all the paperwork to the construction site: this is an outdated and unnecessarily complicated way of doing things.
The second step is to have adequate photo documentation of the construction site. Taking photos and exchanging them with all stakeholders in the project is essential because they allow you to:
Share everything that happens on site
Fill knowledge gaps typical of a site managed without shared and organized photographic documentation (the traditional daily report is a typical example of an outdated model).
Smart photo management allows you to know what is happening on the construction site, bringing an important competitive advantage to your company.
But be careful: this is true only if the photos are not stored (or lost) in the foreman's mobile phone, or sent via WhatsApp to the owner, who should then download and save them on the company server (which, hopefully, is on a cloud).
Mela offers a unique solution to this problem: with a user-friendly interface that is similar to WhatsApp and other chat programs already used in the field, Mela saves photos and other information in an organized way and automatically generates daily reports.
3. Third step: digital cost control
The final step to increase the efficiency of the company is to automate and digitize construction site cost control, possibly with collaborative platforms and using structured data.
For example, with Mela you can directly upload all information relating to:
Working hours of each employee
Materials used
External services employed
Subsequently, the system processes, extracts and organizes this information, providing an instant snapshot of construction site costs.
In addition, by taking photos of the documentation and invoices for services or materials purchased directly at the construction site, Mela enables instant communication between the construction site, the contractor and the accountant back at the office, providing a clear view of the resources on the construction site.
Now let's take it a step further. Imagine that from the photos of invoices and transportation documents, the system is able to automatically extract the delivered materials and the services to be accounted for.
This allows you to quickly control the costs of the construction site, an activity that normally has a delay of weeks compared to the use of resources on site.
With Mela we expedite access to this knowledge — that is, you know immediately, by evening, the costs of your site.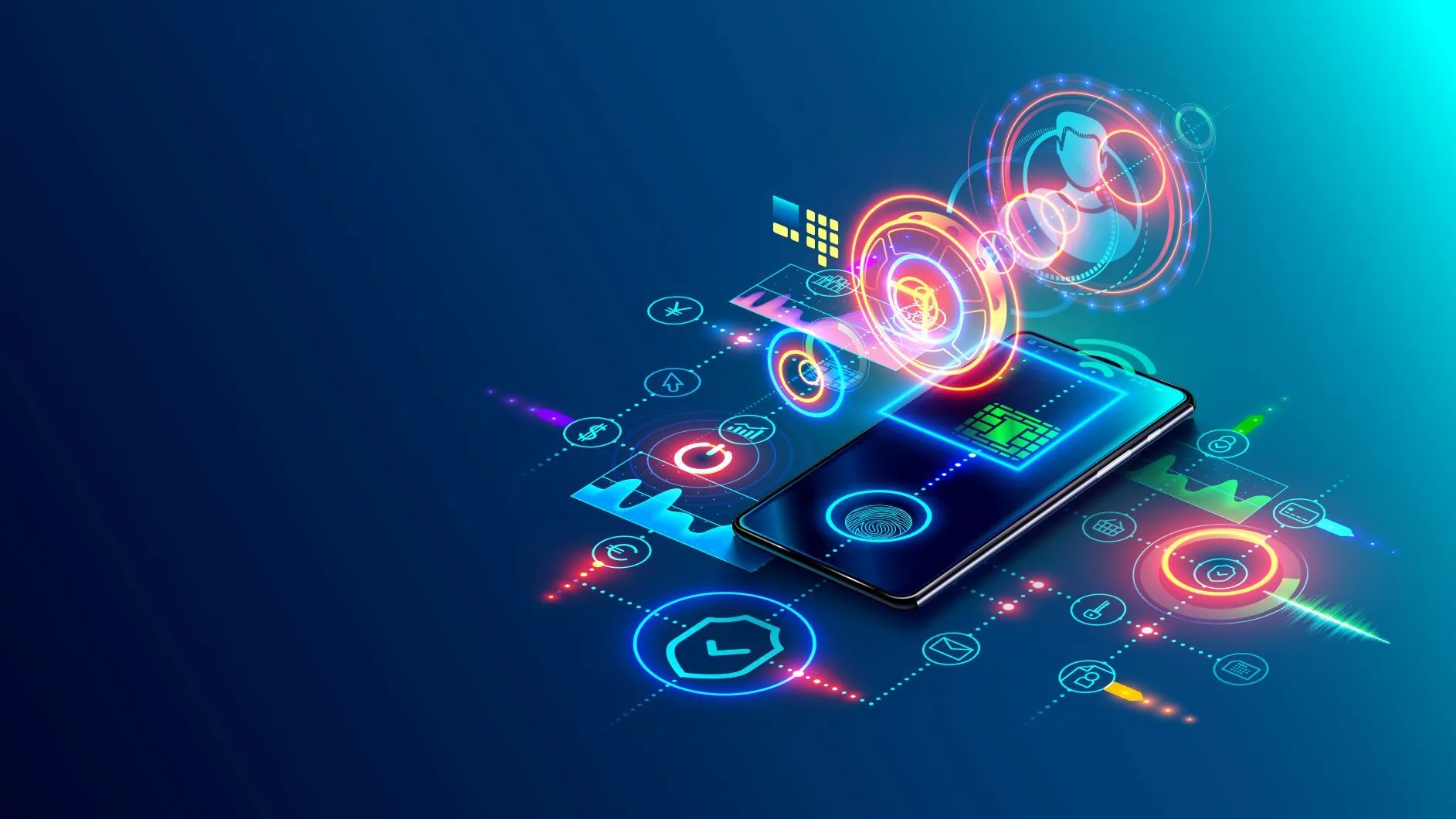 Why didn't we include BIM and the most advanced technologies?
4. BIM and Digital Twin
BIM is a reality for large design studios and large public and private contracts. But this powerful tool is not ready to digitize the construction site, especially if it is medium or small in size.
Digitizing small- and medium- sized construction site does not mean adopting BIM. While it is a powerful tool for managing large construction sites, to small- and medium-sized projects it would in most cases bring complexity rather than simplification, which is what we're looking for.
We believe that in the future, with the advent of simplified views of BIM models and the growing digital capacity of the field workforce, BIM will also become an everyday tool. But today we are not yet at this point.
5. Robots, connected equipment, automated construction sites, 3D printed buildings
To date, these technologies are still at the prototype stage. They work under certain conditions and with a large engineering investment for each application. 3D printing is certainly the most advanced technology, which will have an impact in the short term, but it is not our digital investment of 2021. We will buy a machine to print houses in 2025, but in the meantime what do we do? Do we want to postpone again?
Digitization to know what happens on site and digitization to know immediately how much the site costs brings with it 3 very important results:
Streamlines information collection and management processes by simplifying the work of the 4 key figures of the company (owner, technical director, site manager, accountant)
Improves access to information, enabling faster and smarter decision-making. This improves results in several keyways, but the most important is the reduction of delays on the construction site, thereby increasing productivity.
Have the history of the construction site drawn effortlessly by drastically reducing current and future risks.
---